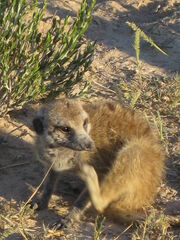 Wolverine(VXMM002) was first seen roving at the Quetzals on May 16, 2010. His perants were wild meerkats thought be from the Abba group. His mother was either the dominant female or a subordinate female. His father was either the dominant male or a rover from another group maybe monitored group. One of his litter-mates might have been Mozilla of the Underdog. Wolverine is heavly scared on his face from some long ago attack. He possiblely got injured by the Toyota encounter. He lived in the wild group for a few years, around three or so then he went roving with Cyclops(VXMM001), Beast(VXMM003) and Gambit(VXMM004). The males roved at the Quetzals but they were chased away by the males. The four then were seen by the Kung Fu but the same thing happen. They males then headed towards the Van Helsing. They soon came across three evicted Van Helsing females. They formed the X-Men. Cyclops took male dominace over the other males. Adhuil took female dominance. She gave birth to five pups in August. Wolverine is still in the X-Men today.
Ad blocker interference detected!
Wikia is a free-to-use site that makes money from advertising. We have a modified experience for viewers using ad blockers

Wikia is not accessible if you've made further modifications. Remove the custom ad blocker rule(s) and the page will load as expected.