Wolf
(VUBM005)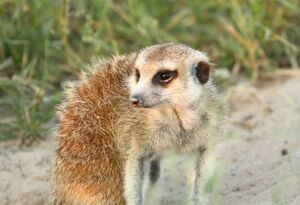 was born in the
Umbra Mob
on September 23, 2008. His mother was
Crystal
, the dominant female, and his father was the dominant male
Spectra
. He was born with just one litter-mate sister named
Silver
(VUBF006). They were the second litter ever born in the Umbra. Both pups survived their first few months despite the fact the group was so small only containing ten members. A few months later on Janaury 2009, Crystal gave birth to Blade, Danielle and Drake. Wolf and his sister were no longer the pups of the Umbra anymore. By then they could care for themselves but there not old enough to hepl out with the new pups. His mother gave birth to Maria, Dread, Olaf, Banshee and Klienn on May 28, 2009. Wolf and Silver made it to their first birthday. A few days later their mother gave birth again on September 27 to a new litter of pups. By then Wolf was old enough to help babysitting the new pups. Wolf started to rove with the older males within the group. Wolf is still in the Umbra today.
Ad blocker interference detected!
Wikia is a free-to-use site that makes money from advertising. We have a modified experience for viewers using ad blockers

Wikia is not accessible if you've made further modifications. Remove the custom ad blocker rule(s) and the page will load as expected.