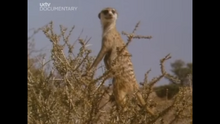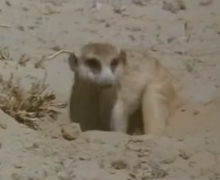 Wallace Topaz (VTM002) was the former dominant male of the Topaz Mob. His life before 2001 is unknown because he was a wild Meerkat at the time. At some point he joined with two other males (possibly his brothers). Originally a male named JR was the dominant male. But after JR was predated on January 15, 2003, Wallace rose to the position of dominant male. He and the dominant female Ruby went on to have multiple litters over their four year long reign over the mob. Wallace himself died on July 8, 2007 due to a TB infection, luckily none of the other Meerkats got sick, but the loss of their dominant male set the family into chaos. Lightning, Wallace's nephew took the dominant male position. Ruby would die in 2009 and her and Wallace's daughter Mila became the dominant female after Ruby's death. And his other daughter Lyric, would become the dominant female after that, though he died in 2016. Several of his daughters would be dominant females in their lifetime such as: Angel, Mouse, Grasshopper, and Radio.
First Litter born on February 27, 2003, Mothered by Ruby
Oreo Topaz (VTM008), Pumpkin Topaz (VTF009), and Angel Topaz (VTF010)
Second Litter born on May 15, 2003, Mix litter between Ruby and Bertha
Dante Topaz (VTM009), Virgil Topaz (VTM010), Guitar Topaz (VTF011), Big Red Topaz (VTF012), Silver Topaz (VTF013), Leo Topaz (VTM011), and Latin Topaz (VTM012)
Third Litter born on October 16, 2003, Mothered by Ruby
Gerald Topaz (VTM013) and Dingo Topaz (VTM014)
Fourth Litter born on May 20, 2004, Mothered by Ruby
Mouse Topaz (VTF015), Grasshopper Topaz (VTF016), and Baby Topaz (VTF017)
Fifth Litter born on March 4, 2005, Mothered by Ruby
Peanut Topaz (VTM021), Acorn Topaz (VTM022), Spirit Topaz (VTM023), and Strawberry Topaz (VTF018)
Sixth Litter born on September 30, 2006, Mothered by Ruby
Mila Topaz (VTF022), Tim Topaz (VTM026), and Limbo Topaz (VTM027)
Seventh Litter born on December 16, 2006, Mothered by Ruby
Lyric Topaz (VTF023), Radio Topaz (VTF024), and Adam Topaz (VTM028)
Eighth Litter born on July 1, 2007, Mothered by Ruby
Monkey Topaz (VTM029) and Droplet Topaz (VTF025)
Ad blocker interference detected!
Wikia is a free-to-use site that makes money from advertising. We have a modified experience for viewers using ad blockers

Wikia is not accessible if you've made further modifications. Remove the custom ad blocker rule(s) and the page will load as expected.