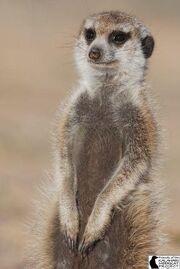 Tikkop(VXAM003) was born on 6th February 2008 in the Xhosa Mob. His parents are Dafila and Azdrontik. He was born in a litter of three, his two littermates were Kitkat(VXAF001) and Doroco(VXAM002). Tikkop and his siblings survive to a year and a half. His mother Dafila is still the dominant female of the Xhosa as well as his father, Azdrondtik, is still dominant male. He soon matured to an adult male meerkat and started to fancy roving and which is what he did. He briefly left with another male to rove but retuned to Xhosa.
Ad blocker interference detected!
Wikia is a free-to-use site that makes money from advertising. We have a modified experience for viewers using ad blockers

Wikia is not accessible if you've made further modifications. Remove the custom ad blocker rule(s) and the page will load as expected.