Tema Zutus
Tema Zutus

Birth Date

31 October 2008

Death Date

Still alive

Dominant

yes of the Zutus

Mate

First One-Eye now Mitch Whiskers

Pups

VZP001 and VZP002
Was Born on 31 October 2008. in a wild group. In 31 December 2009 she was evicted and joined a group of females and one male and take dominance the group was called Zutus.
Zutus Mob
Edit
In the mob her mate was One-eye. She was seen pregnanr after mating with Him. But than in September Mitch whiskers joined the group and take male Dominance now is waiting to the first litter of pups for Tema.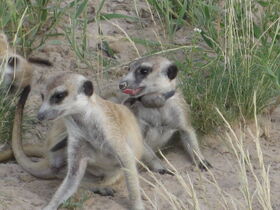 Ad blocker interference detected!
Wikia is a free-to-use site that makes money from advertising. We have a modified experience for viewers using ad blockers

Wikia is not accessible if you've made further modifications. Remove the custom ad blocker rule(s) and the page will load as expected.