Wild Group
Edit
Soren
(VLDM001)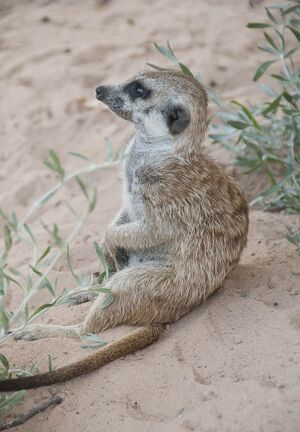 was a wild male but when he and his brother,
Claw
went roving they met two females and this unit formed the powerful and clever
Leopards
.
The Leopards
Edit
Soren and Black Cat then took dominace and Black Cat started giving birth to pups. Black Cat gave birth to Pirate Sarge, Lily, Maximus, Rex and Sandcat on June 2008. They were Soren's first litter evern and all five pups survived. Black Cat gave birth again on October 2008 to Acacia, May and Tilly. Then on March 2009 Black Cat gave birth to Conrade,Tiki tavi and Kenya. In April Soren had been the dominant male of the Leopards for a year but the group of 15 ran into their rivals the Killers Mob. The group splinter after the encounter and disappeared breifly. The meerkats who splintered were Lily, Maximus, Rex, Acacia, Tilly, Tiki Tavi, Kenya and Conrade splintered and were apart from the Leopards for almost a month. Soren remained in the main group but in May the splinter group was found and rejoined the Leopards. Black cat gave birth to Mango, Kalahari, Digger and Gracie in July 2009. In August the group splintered again, Kamber, Claw, Sarge, Rex, Acacia, Tilly, Mango and Kalahari were in the splinter group. Soren is still the dominant male of the Leopards today.
Ad blocker interference detected!
Wikia is a free-to-use site that makes money from advertising. We have a modified experience for viewers using ad blockers

Wikia is not accessible if you've made further modifications. Remove the custom ad blocker rule(s) and the page will load as expected.