Petals was first seen in January 1995 as the Dominant female of a wild group called the Lost Boys Mob. She quickly became pregnant along with Lola. In March 1995 they gave birth to a mix litter of 7 pups. Four males named Apollo, Falcon, Sammy, Dean and 3 females Lira, Jana, and Nora. In April 1995 Jana was predated. In May 1995 Petals became pregnant by a roving male. In June 1995 Lola was evicted from the Lost Boys. In July 1995 Petals gives birth to
Section heading
Edit
Write the second section of your page here.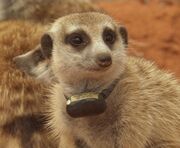 Petals Lost Boys

Mob(s)

Lost Boys

Dominant

Yes Of The Lost Boys Mob

Date of Birth

First seen January 1995

Parents

Unknown

Litter-Mate(s)

None

Mate(s)

Iron Man

Children

Known For

First Dominant Female of the Lost Boys Mob
Ad blocker interference detected!
Wikia is a free-to-use site that makes money from advertising. We have a modified experience for viewers using ad blockers

Wikia is not accessible if you've made further modifications. Remove the custom ad blocker rule(s) and the page will load as expected.