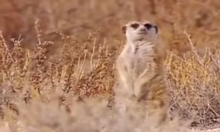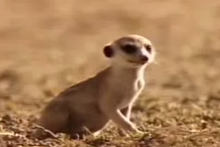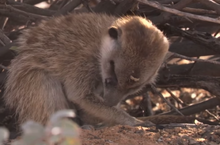 Peanut Topaz (VTM021) was a well known Meerkat. Born on March 4, 2005. He had three siblings when he was born who all survived to adulthood with him. Two brothers: Acorn and Spirit, and one sister: Strawberry. His mother was Ruby and his father was Wallace, they were the dominant pair of the Topaz Mob, the family he was born in. He was usually a babysitter for his mother's pups and was good at keeping roving males away from the family. In 2007 however, his sister Strawberry was predated by a Tawny Eagle and his father died from a TB infection. For two years, Ruby did not produce anymore pups but remained dominant female. Peanut's older brother Lightning took on the role of dominant male. Peanut was successful in mating with Lilly, a subordinate female of the Amerson Mob. In early 2009 he went roving at the Bikini Bottom Mob and mated with Regan a subordinate female. His mother also passed away in 2009. He went away for roving but always came back to his family who was then ruled by his little sister Mila. In 2011 he was successful in mating with Regan who was now the dominant female and McDonald the dominant female of the Ingalls Mob but also her two sisters Iris and Meadow. In 2012 he was seen roving at the Sadness Mob and mated with two subordinate females: Marijoanna and Bus Busty, they would go on to have a mix litter. On December 7, 2013 he took a severe bite from a deadly cape cobra whilst defending Mila's pups. This bite would be the end of his eight year long life.
First Litter born on January 2, 2009, Mothered by Lilly
Squeak Amerson (VAM008) and Justice Amerson (VAF011)
Second Litter born on August 18, 2011, Mothered by Regan
VBBM027 and VBBF030
Third Litter born on February 2, 2012, Mothered by McDonald
T-Shirt (VIM022) and Rose Gun (VIF018)
Fourth Litter born on July 1, 2012, Mix Litter Mothered by Marijoanna and Bus Busty
VSAM011, VSAM012, VSAM013, VSAF006, VSAF007, and VSAF008
Ad blocker interference detected!
Wikia is a free-to-use site that makes money from advertising. We have a modified experience for viewers using ad blockers

Wikia is not accessible if you've made further modifications. Remove the custom ad blocker rule(s) and the page will load as expected.