Panthro
(VWM102)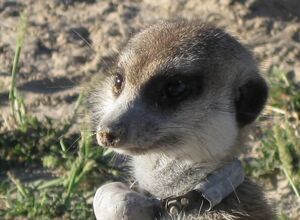 was born in
Whiskers
on the January 29, 2006. His mother was Flower and his father was Zaphod. He was born with his sister
Wiley Kat
(VWM104) and
Cheetara
(VWF103). They survived to adulthood.
Commandos
Edit
When he was a year old he left the Whiskers with his brothers Zarathustra, Baker, Miles and nephew Karim. They joined the Commandos . Zarathustra became the dominant male. He evicted Miles who left with Baker and Karim and they formed the Barbarians. Panthro was the last brother in ther group. He lived in the group under his odler brother. After Zarathustra and dominant female Zorilla died. Panthro became the dominant male with Celidh. She gave birth to Kiara, Nala and Simba on June 14, 2009. Sadly his mate Celidh from a snake bite. The females didn't fight for dominance. His neice Nikita just started acting as the new dominant female and all the other females accepted her as the new leader. Panthro couldn't mate with her so he took to roving. He went roving with Everest, Rastas, Stanley, Michiel, De La Ray and Montan. When he returned he died from disease. Panthro's children are still alive.
Ad blocker interference detected!
Wikia is a free-to-use site that makes money from advertising. We have a modified experience for viewers using ad blockers

Wikia is not accessible if you've made further modifications. Remove the custom ad blocker rule(s) and the page will load as expected.