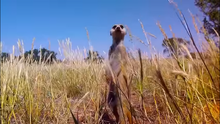 Mila Topez (VTF022) was born into the Topaz Mob to the dominant female Ruby and the dominant male Wallace on September 30, 2006. She had two litter mates Tim (VTM026) and Limbo (VTM027). Tim and Limbo didn't make it passed 8 weeks due to predators. After her mother's death in 2009 she became dominant female. At the time the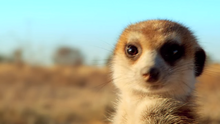 group only had only 9 other members in it Lightning, Apple, Peanut, Acorn, Spirit, Lyric, Radio, Monkey, and Droplet. Mila's brother Lightning became the dominant male so they could not reproduce. In 2010 a roving male mated with her and she gave birth to her first litter. The litter included Cupcake, Violet, and Flash (all of them survived). Apple, Peanut, and Acorn left the group to rove and only Peanut came back. Peanut would continue to come in and out of the group. In 2011 another roving male got her pregnant and she gave birth to a litter of 2 pups Mistake and Pink. Spirit and Monkey left for roving and didn't come back. In 2012 Lyric and Mila were both pregnant by rovers, but Mila killed Lyric's pups and evicted her. Lyric was allowed to come back after Mila gave birth to Sugar Rush, Ralph, and Austin. In 2013 Lyric, Droplet, and Mila were all pregnant by rovers, but once again Mila killed Droplet and Lyric's pups and evicted both of them. Both Droplet and Lyric were allowed back after Mila gave birth to Life and Troy. Lightning contracted TB and died. Flash took over as dominant male. One day a roving male (named Sparky) appeared and stole dominance from Flash. Sparky and Mila had one litter in 2014 of 3 female pups Ellen, Chloe, and Allison. Mila was predated on November 1, 2015. Almost immediately Lyric established herself as the dominant female.
Litters
First Litter born on August 28, 2010, fathered by Rover
Cupcake (VTF026), Violet (VTF027), and Flash (VTM030)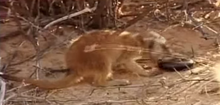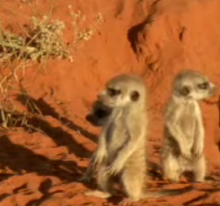 Second Litter born on April 10, 2011, fathered by Rover
Mistake (VTM031) and Pink (VTF028)
Third Litter born on November 7, 2012, fathered by Rover
Sugar Rush (VTF029), Ralph (VTM032), and Austin (VTM033)
Fourth Litter born on November 23, 2013, fathered by Rover
Life (VTM034) and Troy (VTM035)
Fifth Litter born on August 22, 2014, fathered by Sparky
Ellen (VTF030), Chloe (VTF031), and Allison (VTF032)
Ad blocker interference detected!
Wikia is a free-to-use site that makes money from advertising. We have a modified experience for viewers using ad blockers

Wikia is not accessible if you've made further modifications. Remove the custom ad blocker rule(s) and the page will load as expected.