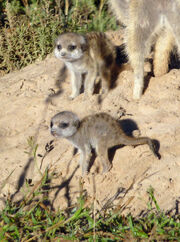 Kite(VJHM013) was born on October 22, 2010 in the newly formed Johnny 13 Mob. His mother was Kitty and his father was probably Johnny. His sisters were Bindi(VJHF012) and Lady Day(VJHF011) and one brother named Mickey(VJHM010). Kite was the smallest pup out of his litter. He and his litter-mates lived their first week of life. When he started foraging with the adults, Kite sadly was predated by a hawk on December 19, 2010.
Mother: Kitty
Father: Johnny
Brother: Mickey
Sisters: Bindi and Lady Day
Ad blocker interference detected!
Wikia is a free-to-use site that makes money from advertising. We have a modified experience for viewers using ad blockers

Wikia is not accessible if you've made further modifications. Remove the custom ad blocker rule(s) and the page will load as expected.