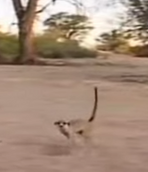 Justice Amerson (VAF011) is the third and current dominant female of the Waltons Mob. She was born on January 2, 2009 in the Amerson Mob to Lilly who was a subordinate female at the time and Peanut who was a roving male from the Topaz. She had one litter-mate named Squeak (VAM008). One year later the dominant female (Justice's grandmother) Bertha died and her mother Lilly rose to dominant male position. Bubba, Lilly's brother became the dominant male. After two years Lilly was killed defending her pups from a Cape Cobra. Rose Lilly's youngest sister became the dominant female after that and her brother Squeak became the dominant male. Justice stayed in the group for some time after that. In early 2014 her and her three younger sisters (Demi, Scorpio, and Buttons) all became pregnant due to rovers. Rose also was pregnant at the time so she evicted all of the pregnant subordinates. All females ended up aborted their litters.
Waltons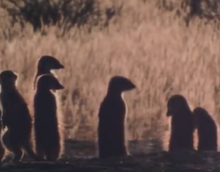 In February of 2014 two males (Chiliwack and Vandenberg) joined with the four females this lead to the formation of the Waltons Mob. The fight for dominant female lasted months until finally Scorpio took dominance on June 19, 2014 even though she was younger than Justice. On August 21 of that same year Justice gave birth to a litter, but sadly Scorpio killed them two days later. Scorpio gave birth to three pups but was hit by a car five weeks later. Demi took the position of dominant female. Demi produced one litter in 2014 and three litters throughout 2015. Demi met the same fate as Scorpio when she was run over by a car in November of 2015. Justice finally took the spot as dominant female. She has since given birth to three litters since and is the head of her large family.
First Litter born on March 2, 2016, Fathered by Chiliwack
J Stamos (VWAM011), B Saget (VWAM012), D Coulier (VWAM013), and C Cameron (VWAF009)
Second Litter born on May 28, 2016, Fathered by Chiliwack
Tyson (VWAM014), Barrymore (VWAF010), and Toni (VWAF011)
Third Litter born on August 12, 2016, Fathered by Chiliwack
Four pups
Ad blocker interference detected!
Wikia is a free-to-use site that makes money from advertising. We have a modified experience for viewers using ad blockers

Wikia is not accessible if you've made further modifications. Remove the custom ad blocker rule(s) and the page will load as expected.