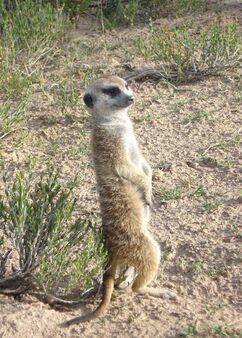 Indiana Jones(VCAM004) was First Seen on January 16, 2009. He was from a wild group then left with some rovers and joined some wild females to form the Cobras Mob. He didn't become the dominant male of Butch and the dominant female was Tasmin. Butch fathered three litters then sadly he died on August 29, 2009 from TB. Indiana Jones became the new dominant male. On Janaury 13, 2010 Tasmin gave birth to VCAF018, VCAM019, VCAM020 and VCAF021 Indiana Jones' first known litter. On May 22, 2010 Tamsin gave birth to VCAF022 and VCAF023. Then on August 24, 2010, Tasmin gave birth to VCAP024, VCAP025 and VCAP026. Sadly Tasmin was killed by a jackal on September 15, 2010. Lilia, Butch and Tasmin's first born daughter, became the dominant female. Indiana Jones started to rove since his niece was the new dominant female.Then in December a Embers male named Java joined the group and took dominance from him.
Ad blocker interference detected!
Wikia is a free-to-use site that makes money from advertising. We have a modified experience for viewers using ad blockers

Wikia is not accessible if you've made further modifications. Remove the custom ad blocker rule(s) and the page will load as expected.