Giraffe Mob

Date of Forming

July 12, 2010

Founders

George, Dora, VGFM002, Lena and VGFM003

Dominant Female(s)

Dora

Dominant Male(s)

George

Current Dominant Female

Dora

Current Dominant Male

George

Number of Members

12

Evicted Meerkat(s)

Lena

Roving Meerkat(s)

VGFM002

Pup(s)

4

The Giraffe mob was formed in mib 2010 by two evicted Puff Adder females and three wild rovers. Dora and George have settled into the dominant positions.
Dominant Pair
Edit
Dominant was establisted by Dora, one of the Puff Adder females. One of the wild males George took the role of dominant male after a month.
Current Members
Edit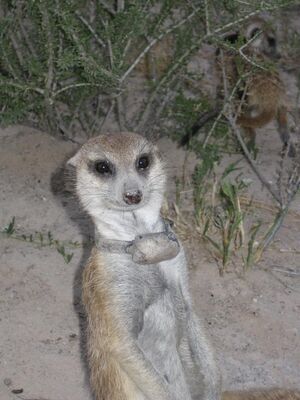 The Giraffle have 12 members as of March 2011.
Dora (VPAF005) Dominant Female
George (VGFM001) Dominant Male
Lena (VPAF003)
Ghost (VGFM002)
Greyson (VGFM003)
Gluffs (VGFM004)
Grandpa (VGFM005)
Grace (VGFF006)
Ginger (VGFF007)
VGFP008
VGFP009
VGFP010
All Known Members
Edit
List of all meerkats born or joined Giraffe.
Dora (VPAF005)
Lena (VPAF003)
George (VGFM001)
VGFM002
VGFM003
VGFM004
VGFM005
VGFF006
VGFF007
VFGP008
VGFP009
VGFP010
The Giraffe's main rivals are the a wild mob yet to be fully habictuated.
July 2010: Dora and Lena joined VGFM001, VGFM002 and VGFM003. Dora assumed the role of dominant female.
August 2010: Dora and Lena were pregnant. Geoge became the dominant male.
September 2010: Dora lost her litter. Lena gave birth to VGFM004, VGFM005, VGFF06 and VGFF007.
October 2010: One encounter with a wild mob
November 2010: Dora was pregnant. She evicted Lena.
December 2010: Dora gave birth to VGFP008, VGFP009 and VGFP010.
Junuary 2011: Two encounters with a wild mob. VGFM003 went roving.
February 2011: VGFM002 went roving three times.
March 2011: Dora was pregnant. Two encounters with a wild mob.
April 2011: Dora gave birth to three pups.
May 2011: One encounter with Prairie Dogs
Ad blocker interference detected!
Wikia is a free-to-use site that makes money from advertising. We have a modified experience for viewers using ad blockers

Wikia is not accessible if you've made further modifications. Remove the custom ad blocker rule(s) and the page will load as expected.