Ellie
(VWWF013)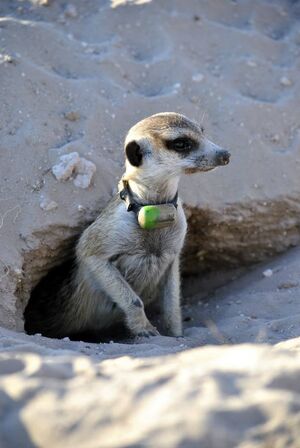 was born in the
Werewolves
 on March 25, 2012. Her mother was
Wolfgirl
 and her father was
Tyron
, the dominant pair of the Werewolves. Ellie's litter-mates were her brother Even(VWWM012) and sister VWWF014. The pups survived their first four weeks and started foraging with the adults. Sadly VWWF014 was soon predated. Ellie and her brother survived their first few months. In Setpember when Ellie was just six months old, her mother gave birth to another litter. Ellie was too young to help out with the new pups. At nine months of age in December she lost her father Tyron, and her older brother
Simon
became the new dominant male. Wolfgirl was pregnant so she evicted all of Ellie's older sisters and cousin who left the group to for the
Goonies
, making Ellie the oldest of he subordinate females. In March, Woflgirl went rmissing for two days but was found dead on March 6. Ellie was not yet a year olf but being the oldest females, she started to asert her dominance and became the new dominant female of the Werewolves a few days before her first birthday. Ellie is still alive today as the dominant female of the Werewolves.
Ad blocker interference detected!
Wikia is a free-to-use site that makes money from advertising. We have a modified experience for viewers using ad blockers

Wikia is not accessible if you've made further modifications. Remove the custom ad blocker rule(s) and the page will load as expected.