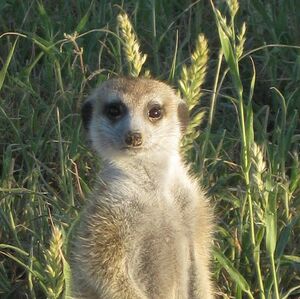 Dan
(VBKM001) was born on April 16, 2004 in the newly formed
Bakugan
. His mother was
Mylene
and his father was Hazel. He was born with one sister named
Runo
(VBKM004) and two brothers named Marucho(VBKM002) and
Shun
(VBKM03). The small group only had four adults to look after the pups but somehow Mylene and the adults managed to bring the pups through. Mylene gave birth to Julie, Alice, Masquerade and Daisy on August 28, 2004. All four pups survived as well. Dan by then was four months old, so he could care for himself by then. However he was too young to help his mother care for the new pups. His father Hazel was overthrown by his litter-mate brother Thumper and soon died by a snake bite. Thumper became the new dominant male. However Thumper was soon predated. Mira gave birth to Micheal and VBKF011 on Janaury 14, 2005. A wild male named
Ace
joined the group and took the dominant male position. Mylene was bitten by a snake and died a month later. His older aunt
Mira
became the dominant female and took Ace as her mate. By the time the next litter was born, Dan was oldest to help out babysitting. Dan is still in the Bakugan today.
Mother: Mylene
Father: Hazel
Sister: Runo
Brother: Shun and Marucho
Ad blocker interference detected!
Wikia is a free-to-use site that makes money from advertising. We have a modified experience for viewers using ad blockers

Wikia is not accessible if you've made further modifications. Remove the custom ad blocker rule(s) and the page will load as expected.